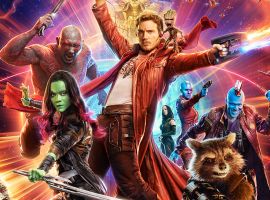 Buckle in your seat belts and sit back. This galactic ride is a wild one. Our favorite space heroes are back better than ever; upping the juvenile fun and tongue-in-cheek humor that made the first Guardians of the Galaxy a surprise hit in the summer of 2014.
Gunn took everything that made this franchise popular and a standout in the Marvel lineup, and improved upon it; giving us a more cohesive and engaging storyline alongside the mindless action from Vol. 1. From better characterization, even in minor roles, with way better jokes and amazing neon-drenched visuals, Vol. 2 combines old and new elements for a fun journey across the galaxy as we learn more about Peter Quill's (played by Chris Pratt) parentage.
The opening sequence is an ingenious depart from the typical staged set-up of most big blockbusters. Gunn doesn't wait to spoil us with dynamic action scenes as the film jumps right into an exciting sequence with the crew duking it out against a hideous space monster on behalf of The Sovereign, a race of genetically modified golden people. Meanwhile, Baby Groot gets his groove on to ELO's "Mr. Blue Sky" as the team fights around him. The Guardians clear this threat only to wind up on the bad side of their clients who are now out for their heads.
An elusive figure named Ego (played by Kurt Russell) comes to the crew's rescue with a big reveal: he is Peter's long-last father. As we all know, Yondu was supposed to drop Peter off with his dad but instead decided to keep him as his own. The film further untangles this dynamic between the trio as Yondu finally reveals why he kept Peter.
Ego was a significant upgrade from most Marvel villains. His personal connection with Peter and his desire to reconnect with his son gets viewers emotionally invested to see where the story ends. Russell brings the right amount of self-deprecating swagger and charm, combined with his magnetic star power, that instantly draws you in. His sidekick, an empath named Mantis (played by Pom Klementieff), adds more punchlines to the film as fodder for some of the best one-liners from Drax, even in the final concluding moments before the credits roll.
Vol. 2 pulls heavily on the rapport of its cast and the leading team settles back into their roles with charm. The heart of this film lies in each character discovering that, despite their differences, they're one big dysfunctional family who need each other more than they realize. Besides, who can protect the galaxy better than they can?
Chris Pratt brings the same dorkiness to Peter Quill that we got in the first film; just a little more refined as Quill tries to position himself more as the leader of The Guardians. It goes about as well as expected when you consider his childish tendencies and need to be right.
If you were a fan of Gamora's (played by Zoe Saldana) murderous and psychopath of a sister Nebula (played by Karen Gillian). Well, rejoice. Nebula's role was significantly expanded for Gunn to work through the intricacies of the sisters' hellish upbringing under Thanos and the lingering scars it left them with. Saldana manages to be the voice of a reason and effortlessly cool as the second-in-command trying to keep her team together and bridge the distance with her sister.
Rocket (voiced by Bradley Cooper) is as shifty and resourceful as he was in the first film. But, this time he must come to terms with the need to push others away due to his fear of ultimately being mistreated again as he was by the scientists who experimented on him.
Groot (voiced by Vin Diesel) is a baby in this film and since he doesn't have lines besides "I am Groot." He serves as more of an endearing, comedic touch with his new child-like persona. But, that doesn't mean Groot is sidelined in any way as he stills plays a central role to the team.
Bautista is a comic highlight once again as Drax, his literalisms nicely offset by Klementieff's doe-eyed naivety. The songs, all classics from the 1980s, are more tied into the film this time around instead of serving as stand alone jams. Classic records are paired with certain scenes to add deeper subtexts outside of the character's actions, further elevating the mood of the scene; whether we supposed to be laughing our butts off or feeling sad for the team.
The rumors are true. There are five very brief cut scenes at the end of the film with a few references made to other stories that could eventually be told and a revisit to some familiar faces. Guardians of the Galaxy Vol. 2 manages to expand on what came before in new and rewarding ways while also striking its own distinct tone, making it a sweet follow-up filled with lots of fan-service for its dedicated fanbase and great moments for the casual viewers that make this movie a joy to see for everyone.
I give this four and half stars out of five stars.